Clorox Disinfect Wipe Fresh Scent 700/Bag 2/cs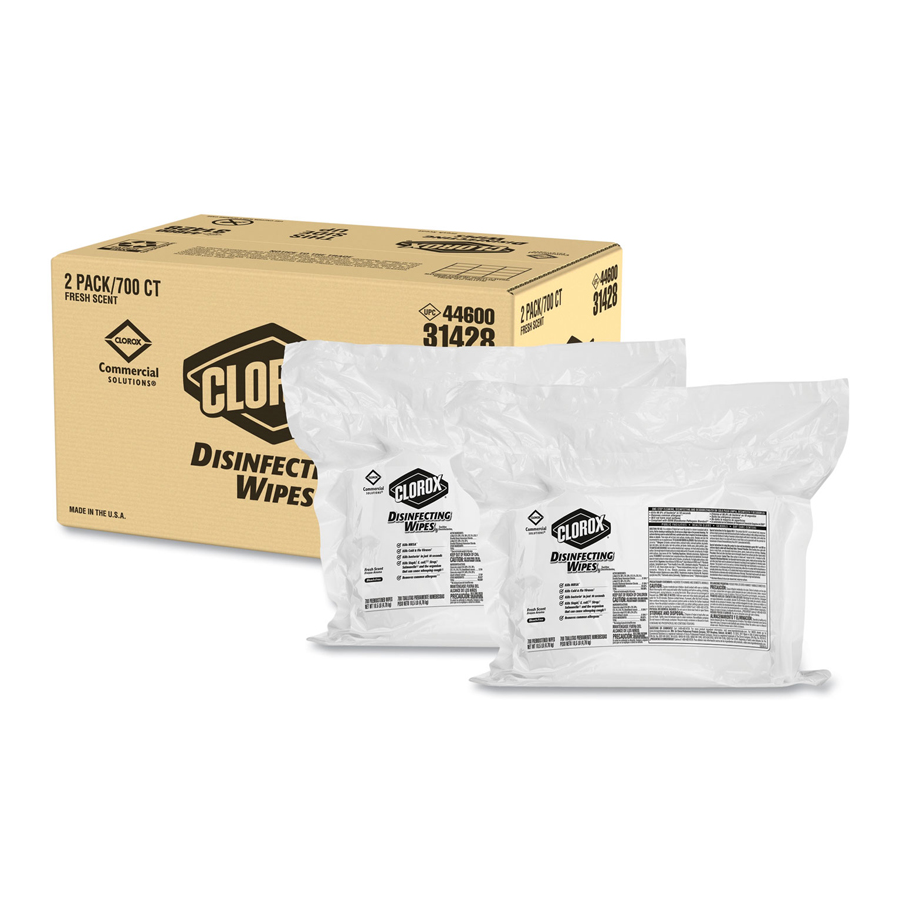 Color:

White

Material:

Pre-Moistened

Pack Type:

Bag

Ply Count:

1-Ply

Scent:

Fresh

Size:

7"x8"
Clean and disinfect multiple surfaces in one easy step. These sanitizing wipes power through grease, soap scum and grime and kill germs that can live on surfaces for up to 48 hours. Each cleaning wipe can effectively kill common bacteria, including staph, salmonella, strep, MRSA, e.coli and the cold and flu viruses, human coronavirus and influenza A2 virus, in as little as 30 seconds. They also remove allergens like car and dog dander, dust mite debris and pollen. These antibacterial wipes are easy to use and work great on a variety of hard, non-porous surfaces including finished hardwood, stainless steel, mirrors and glass. Ideal for use in schools, restaurants, offices and other commercial facilities.
Clean and disinfect with a powerful multipurpose wipe killing 99.9% of bacteria and viruses and remove common allergens around your home.
Clorox wipes clear drying formula powers through grease, soap scum and grime so you can conveniently tackle any tough surface.
Disinfect and deodorize with the fresh smell of Clorox scented wipes for a bleach-free, all-in-one cleaning alternative.
Germs and messes occur on more than kitchen counters and bathroom surfaces - safely wipe down desks, remotes, or clean up spills.
From Clorox Commercial Solution, these wipes are ideal for use in schools, daycare centers, restaurants, hotels and other commercial facilities.